Computer Study Room
---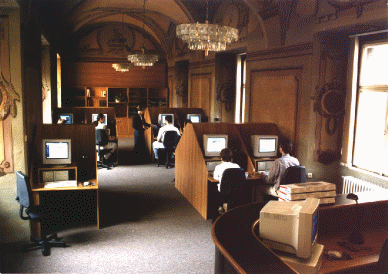 The Computer Study Room is designed for the centralized use of:

electronic information sources which are available to users through the library's local network
Internet
other multi-media information sources available in the library's collections
The computer study is equipped with 13 user workstations and 2 staff workstations these have CD-ROM faculties, diskette drives and are connected to a laser printer.
Windows NT, UltraNet and Netscape and MS Internet Explorer browsers are installed. A reference library and a collection of electronic media are at the users' disposal, (these are being continuously extended).

The study room is used specifically for on-site sessions performed in the library; only CD-ROMs which are not a source of secondary information can be borrowed, against the payment of a security deposit.

The study room is situated on the first floor of the STL in the beautiful surroundings of a historical hall, which is equiped with modern interior furnishings. It is directly accessible from the Service Hall.

It is open to the public Monday to Friday from 8:00 to 19:00. Information and advisory services are available throughout opening hours.

Any reader registered with the State Technical Library and who has a valid library User Card and pays the surcharge for using the computer study room can use these faculties. Users of the computer study room must observe the STL Rules for Working with Computer Technology and the Computer Study Regulations (part of the Library Regulations of STL).

The computer study room offers access to the following sources:
reference databases on CD-ROM available on the library's network (LAN) - such as ISSN Compact, JurixMax, Computer Select, Company Monitor, Czech National Bibliography, Ulrich's Plus, Novell Support Connection etc.
freely accessible data on the Internet which are related to the information scope of the library, i.e. the fields of technology and applied natural sciences
CD-ROMs and diskettes from the library's collection which are separate publications or supplements to periodicals and other sources
videocassettes from the library's collection
A user can store the results of his/her work in his/her working directory from where print-outs can be made (data from selected CD-ROM and the Internet) for a small fee or he/she can send the output to a diskette (data from the Internet). There is also a word processor at the users' disposal.

Phone: /+420 2/ 2166 3434
E-mail: pocstud@stk.cz
---
© 1999 State Technical Library