General Study Room
---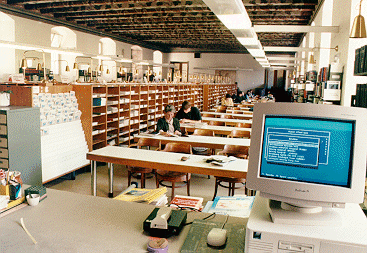 Admission to the General Study Room is possible for every reader of the STL on the basis of a valid STL Reader's Card or a Card for Studying in the Study Rooms (with one week's validity). These are issued to readers by the personnel of the Information Service. The General Study Room is used for studying literature within the library building.

The freely accessible journals collection contains titles which are in greatest demand in the fields of technology, applied natural sciences and other related areas, these are divided into 26 subject categories. Journals published in the current year and in the previous year are displayed in the study room.

Diskettes which form supplements to the displayed journals are held by the staff on duty who will lend them to a reader upon request, for the purpose of studying them within the library building (a reader may use one of the two computers situated within the study room).

| | |
| --- | --- |
| Daily publications available in the study room include: | Mlada fronta Dnes |
| | Slovo |
| | Lidove noviny |
| | Pravo |
| | Hospodarske noviny |
The reference library offers basic works of reference and encyclopedic character such as:

Encyclopedia Britannica
Gmelins Handbuch der Anorganischen Chemie
The New Book of Popular Science
McGraw-Hill Encyclopedia of Science and Technology
Ullmanns Encyclopedia of Industrial Chemistry
Metals Handbook
Encyclopedia of Chemical Processing and Design
Encyclopedia of Materials Science and Engineering
Otto's Informative Dictionary
Collection of laws enacted since 1918 up until now
language dictionaries
The reference library is divided into 10 basic categories:


| | |
| --- | --- |
| I | General |
| II | Natural Sciences |
| III | Chemistry |
| IV | Environment, Biotechnology |
| V | Technology (general) |
| VI | Computer Technology |
| VII | Industry |
| VIII | Energy |
| IX | Transportation and Communications |
| X | Civil Engineering and Architecture |
The study room also offers the possibility of using selected electronic information sources and databases available on the STL network such as:

other databases

Czech Railways time-table
Bus timetable
Information catalogue Zlaty disk (Golden disc)
The display of added to the STL collections is up-dated every month. A reader can make a reservation for the publications contained in this display; when the display ends, he/she can borrow the given publications immediately.

General Study Room Services

free acces to domestic and foreign journals of current year's and previous year's volumes
reference library
electronic information sources (selected)
stand-by copying service readers can order copies of selected publications available in the study room against immediate payment in cash
the possibility of in-house studying of publications which cannot leave the library
information on the services and collections available in the study room; enquiry desk
The study room is open from Monday to Friday from 8:00 to 19:00; in July and August, it is open until 16:00 (until 19:00 on Tuesdays).
---
Journals - Subject Series
| | | | |
| --- | --- | --- | --- |
| A | Engineering Technology | N | Communications Technology |
| B | Nuclear Technology | O | Transport |
| C | Energy | P | Organization of Industry, Transport, Trade |
| D | Technology | Q | Materials Technology |
| E | Computer Technology, Computers | R | Social Sciences |
| F | Natural Sciences | S | Economics |
| G | Mathematics | T | Architecture |
| H | Physics | U | Civil Engineering |
| I | Chemistry | V | Other Industries |
| J | Chemical Technology | W | Metallurgy |
| K | Ecology | X | Mining and Fuels |
| L | Electric Power Technology | Y | Agriculture, Food Industry |
| M | Electronics, Microelectronics | Z | Biotechnology |
---
Contact:
---
© 1999 State Technical Library